At NDC, we recognize the importance of diversity in technology. It's better for our industry in both ideas and execution. Unfortunately, it's no secret that just like the industry itself, NDC speakers and attendees are predominantly male. Over the previous years we have worked to better this situation by including more female speakers in the lineup. Although our numbers have improved, we admit that we haven't done enough.
After NDC Sydney in August 2016 we were approached by Jon Skeet and Daphne Chong about the lack of diversity at the conference. With the help of Chris O'Dell we decided to redouble our efforts for future conferences.
With more awareness in the booking process we were able to get our numbers up to 20% female speakers for NDC London 2017. There are plenty of really good female speakers, so improving our numbers by simply inviting more women was easy. The worrying part is that less than 7% of submissions to the Call For Papers (CFP) were from women. To truly get a more diverse speaker lineup we need to improve the number of submissions from women.
Some of the measures we are taking to help encourage new speakers are: hosting free workshops on how to write talk abstracts, workshops on public speaking and Lightning Talk nights where less experienced speakers can gain speaking experience and confidence. We're reaching out to user groups offering free stands in return for spreading the word about our CFP and efforts to get a more diverse conference. We will also try hard to ensure none of our panels are all-male.
For NDC London 2017 the code of conduct will be sent to speakers and attendees prior to the conference, and we'll call out the code of conduct before the keynote. We hope NDC will be seen as a safe and inclusive conference that celebrates and promote diversity. Below is a percentage chart of female speakers at our conferences since 2008. While we're clearly making progress, we don't consider this to be 'done' by a long way.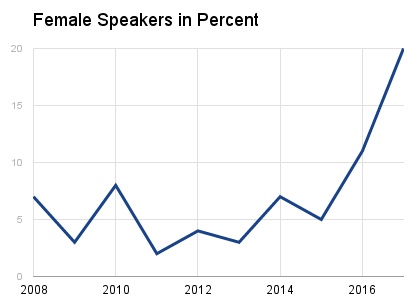 Diversity isn't something that can simply be forced onto a conference or an industry. It's up to all of us - organizers, speakers and attendees - to play our part. We don't yet have any data about attendee diversity, but that's something we'll look into via our sign-up process in the future. If you have ideas to how we can improve diversity at NDC, please get in touch through email, Facebook or Twitter.
Thanks to Jon Skeet, Daphne Chong and Chris O'Dell for starting this important process. We look forward to more diverse NDC conferences in the future.